The Joint Mathematics Meeting is just about over. I have a social engagement remaining but my calendar for presentations, panels, and meetings is done. There were some remarkable moments but if I got to award a "Most Valuable Mathematician #JMM2021", it would have to go to Dr. Chelsea Walton.
Dr. Walton gave two (not one but two) dynamite hour-long invited presentations. The first an MAA invited address entitled Navigating Collaboration. I already mentioned this talk in my post January 6 Day 304: The Mixed-Up No Good Very Bad Wonderful(?!?) Day It deserves repeating, she should write a book.
Then today she gave the NAM Claytor-Woodard Lecture. It was amazing.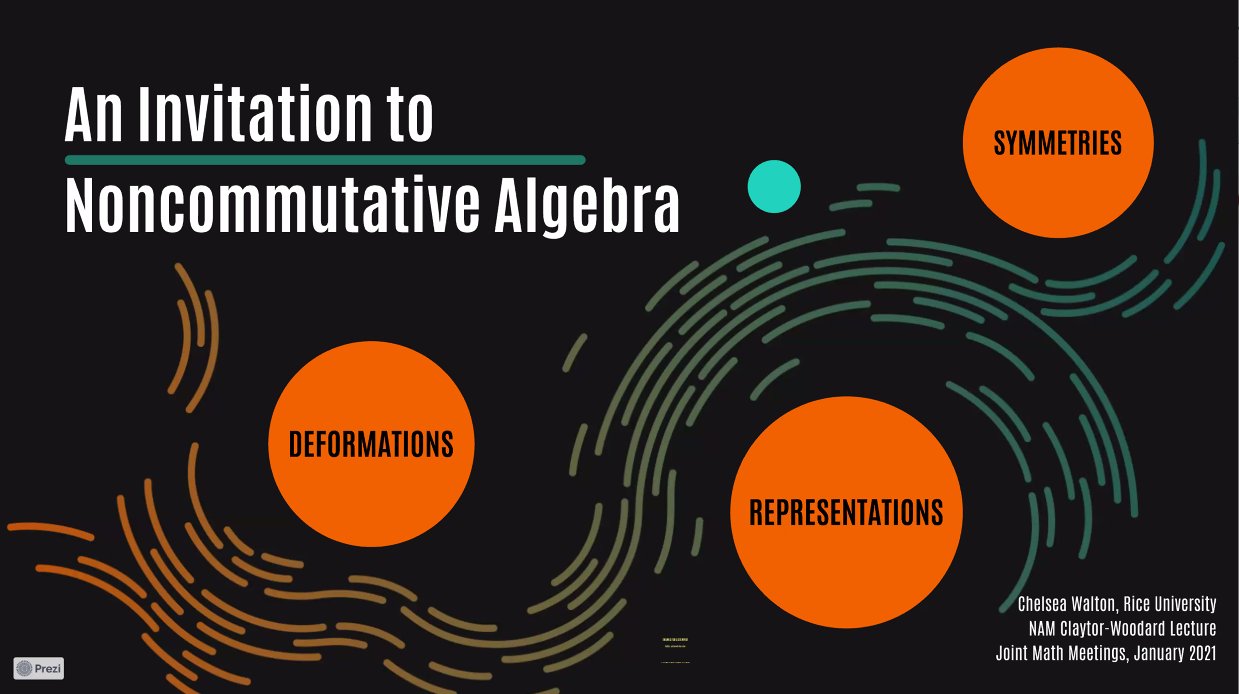 She took the complex subject of noncommutative algebra and broke it into three stories—representations, deformations, and symmetries. There was real joy in the telling and her insights made the subject accessible to the nonexpert. There was humor and beautifully illustrated slides. This was a genuine invitation to the subject.
She showcased others from her field, both established and up-and-coming:
And she found ways to connect the subject to everyday experiences.
Dr. Walton, you are my new hero. Mathematics with story, intuition, clarity, collaboration, and joy. They are things I strive for and you achieve. Thank you.